Description
Add an Accessories
Characteristics
No Reviews
Description
Wireless Tracker is a development kit based on ESP32-S3FN8. It integrates both SX1262 and UC6580 to provide fast GNSS solution for IoT. It can track any object and then upload that data wirelessly by Wi-Fi, Bluetooth, LoRa.
Wireless Tracker supports L1 + L5/L2, and supports GPS, GLONASS, BDS, Galileo, NAVIC, QZSS multi-system joint positioning. It is perfectly compatible with Arduino, can be widely used in development such as bicycle sharing services, tracking pets or livestock, locating vehicles, tracking children, etc.
Compared to Wireless Shell (V2), V3 has made the following upgrades:
| Item | Wireless Shell (V2) | Wireless Shell (V3) |
| --- | --- | --- |
| MCU | ESP32-D0 | ESP32-S3 |
| LoRa Node Chip | SX1276 | SX1262 |
| USB Socket | Micro USB | USB Type C |
| Crystal Oscillator | Ordinary crystal oscillator | High precision temperature compensated crystal oscillator |
| Low Power Features in Deep Sleep | 30uA | <10uA |
| Other Update | | Better impedance matching of RF circuits. |
Parameters

Description

Master Chip

ESP32-S3FN8 (Xtensa®32-bit lx7 dual core processor)

LoRa Node Chip

SX1262

Frequency

470~510MHz,
863~928MHz

Max. TX Power

21±1dBm

Max. Receiving Sensitivity

-139dBm

Wi-Fi

802.11 b/g/n, up to 150Mbps

Bluetooth LE

Bluetooth 5, Bluetooth mesh

Hardware Resource

7*ADC1 + 8*ADC2;
9*Touch;
3*UART;
2*I2C;
2*SPI; etc.

Interface

LoRa ANT(IPEX1.0);
2.4G ANT (IPEX1.0);
1.27 spacing Stamp hole.

Operating Temperature

-40 ~ 85 ℃

Dimensions

38.4 * 16.1* 2.8 mm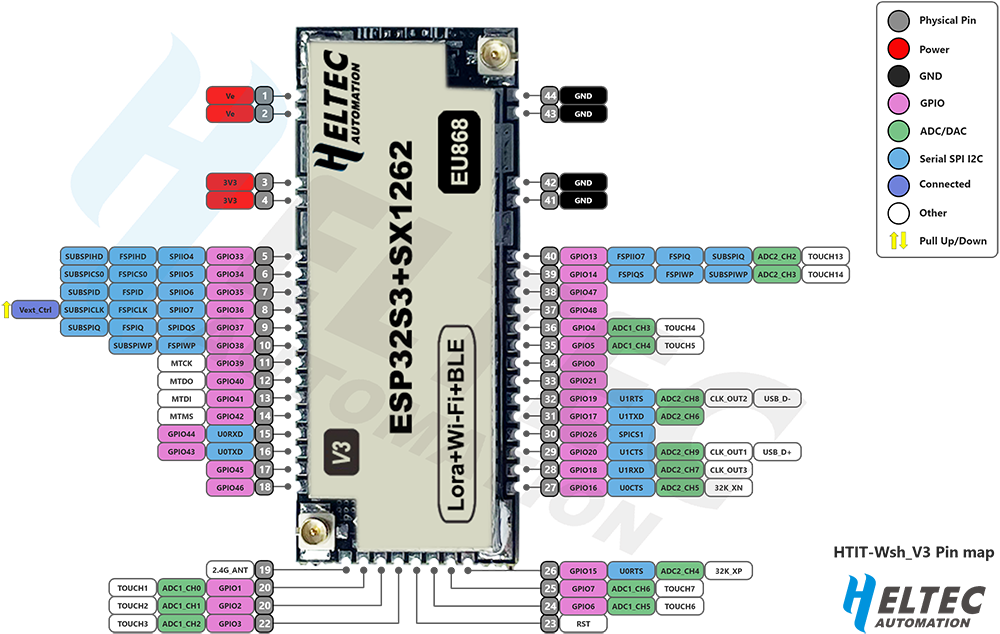 If you want to use the new ESP32-S3 processor and the SX1262 LoRa chip, you may need to use new libraries that support them. You should check that the libraries you are using are compatible with these new components.
As far as my experience with the Wireless Stick Lite is concerned, the only library I had to change when switching from V1 to V3 was the LoRa library. The Sandeep Mistry LoRa library that I used earlier doesn't work with the new SX1262 LoRa chip. To make my code work with the V3, I had to migrate to the Heltec LoRaWan_APP library. This was a true migration because the two libraries don't use identical calls.
First up, you need to have installed the latest Heltec support software (refer to this post), then you need to select the board identified as:
WiFi LoRa 32(V3) / Wireless shell(V3) / Wireless stick lite (V3)
If you can't see this board anywhere in the board list, you probably don't have the correct support software installed. Previous ESP32 code (whether it's from Heltec or anyone else, I believe) will not run on the new ESP32-S3 processor.
There are now several recent posts discussing issues with getting connected to the new V3 boards, so check them out and see how you go following the recommendations provided therein.
If you're still having trouble, include a description of your development environment (Arduino IDE or whatever, and on what OS platform) in your next post.
And if you succeed, it would be helpful if you could post a reply letting everyone know what your problem ultimately was and how you corrected it.
Imagine that you want to measure the moisture in your field. Although, it is not far from your house, it probably doesn't have Wi-Fi coverage. So, you can build a sensor node with an ESP32 and a moisture sensor, that sends the moisture readings once or twice a day to another ESP32 using LoRa.The later ESP32 has access to Wi-Fi, and it can run a web server that displays the moisture readings.This is just an example that illustrates how you can use the LoRa technology in your ESP32 projects.
The default packing list without selecting any accessories is as follows:
| Item | Quantity |
| --- | --- |
| Wireless Tracker | x1 |
| Glue Rod Antenna | x1 |
| SH1.25×2 Battery Connector | x1 |